STILL USING TRADITIONAL TVs AND NORMAL PROJECTORS?

With a traditional TV, you will have to deal with these issues: bulky, expensive, and takes up a lot of space. Even an 85/100-inch TV has a market price of $2500 or more. Additionally, choosing a conventional or miniature projector may present some challenges: the picture quality downgrades as the projection picture grows, while the sound quality and screen color are nothing to be happy about…
MaxAngel M1 laser TV projector will take care of all these problems for you!

MaxAngel M1 is a laser TV projector that offers 4K image quality, has an ultra-short throw of 0.21 transmittance, and exclusively utilizes a panoramic sound system.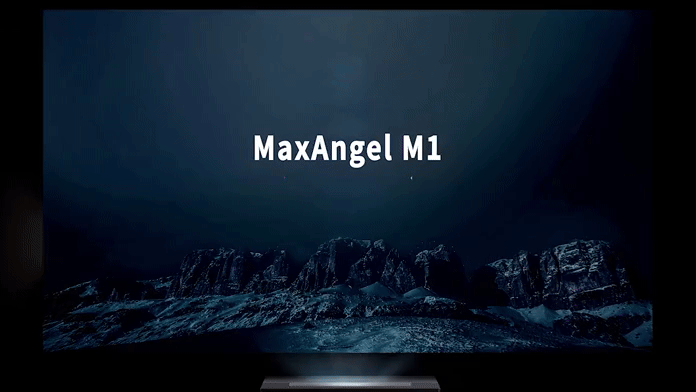 Review By
EBPMAN Tech Reviews

NO MORE SHADOWS ON THE SCREEN

Projector throw ratio refers to the ratio of projection distance to screen width. The smaller the ratio, the shorter the projection distance is required to achieve the same screen width, however, the requirements for the optical machine and projector itself are higher.
Compared to the most common projector throw ratio on the market, which is 2:1, the MaxAngel M1 adopts ultra-short throw technology, 0.21:1 large depth of field ultra-short focus lens design, just 6.69 inches from the wall, you can enjoy a 100-inch projection effect! You can place it anywhere you desire and simply plug in the power cord to begin enjoying the incredible viewing experience.
STUNNING 4K IMAGE QUALITY EVEN IN THE DAYTIME


The MaxAngel M1 projects immaculate details and true 4K UHD resolution. Its advanced HD LCD chip enhances the clarity and precision of each image, resulting in a truly exceptional 4K experience.



No more color fringing. Thanks to the TI DMD core processing chip, you will experience a 4K picture with the most vibrant colors, great contrasts, and near-perfect clarity, thus minimizing color differences.


ENJOY A GIANT SCREEN AT HOME


Having MaxAngel M1 in your home is like having a movie theater at your fingertips. Easily adjustable between 80 inches and 150 inches, you can watch your favorite entertainment programs at home, creating your private cinema.


2500 ANSI LUMENS



Powered by an SP-RTIR super engine, it delivers more than 1.07 billion real 4K experiences at a high brightness level of 2500ANSI lumens, providing you with the highest quality, the most perfect image, and the most realistic experience!
HDR10 - SUPER REALISTIC MOVIE EXPERIENCE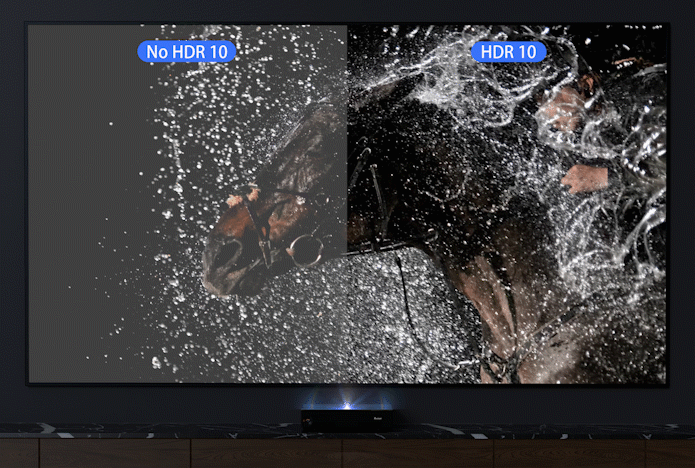 Using HDR 10, Dolby's visual depth goes beyond 10 bits, allowing for more vivid, crisper, and more detailed images.


EACH MOTION IS A PERFECT PORTRAIT



As part of the MEMC(motion compensation function), each dynamic picture is automatically detected and four times more frames are inserted between each frame to ensure the picture is both smooth and realistic.
With MaxAngel M1, you will be able to enjoy every second of Hollywood blockbusters.


IMMERSIVE AUDIO EXPERIENCE



Designed in collaboration with a professional audio team from Taiwan, the built-in HiFi speaker with Dolby virtual surround sound offers a jaw-dropping experience in a large space. When compared with other projectors or TVs, MaxAngel M1 offers a more concentrated focus on movie sound effects and people's voices.
WATCH WHATEVER YOU LIKE




In addition to being a laser projector, the MaxAngel M1 is also a smart TV. With the TV Stick that comes with the MaxAngel M1, log into your Google account, YouTube, Netflix, HBO, Hulu, etc., you can access these services and movies provided immediately.
REDUCE EYESIGHT FATIGUE




Utilize the principle of diffuse reflection to allow light to enter the eyeball through triple refraction (laser-curtain-cornea). Compared to the traditional direct TV light, it significantly reduces eye strain and protects your eyes.
ELEVATE YOUR EXPERIENCE WITH FRESNEL SCREEN




The Fresnel screen is specially designed for ultra-short-throw projectors. Its prismatic structure reflects the projected image light while absorbing and eliminating 92% of ambient light's effect on projected images. Despite the lack of a curtain, you can still enjoy true 4K picture quality.
LESS THAN 25DB WHEN OPERATING

Example of decibels
As the MaxAngel M1 operates at a low sound level of below 25db, you can barely hear any noise while using it.
SHARING HAS NEVER BEEN THIS EASY




MaxAngel M1 supports wireless screen sharing for Android and iOS devices. M1 allows you to project the conference content, multimedia files, game screens, movies, and video screens from the mobile phone/ device onto the screen.
Furthermore, the Mirror Mode from the screen sharing enables you to quickly turn your mobile phone into a remote control, easily control the laser TV projector, and convert streaming video.
1-YEAR WARRANTY, 10-DAYS RETURN POLICY


Concerned about the quality? Not to worry. If you decide MaxAngel M1 is not for you for any reason, just return it within 10 days. Any questions you may have after 10 days may be sent to us via hello@imaxangel.com. Plus, the free one-year warranty is another promise we offer for you.
The MaxAngel M1's laser will last for up to 25,000 hours, meaning that the TV projector can be continuously used for over ten years. More specifically, you can watch more than 12,000 movies, or 4 hours a day for 17 years.
VERSATILE PORTS



With 7 connectivity ports available, you can easily connect all your devices.
PRODUCT COMPARISON



SPECIFICATIONS



WHAT'S IN THE BOX?